Construction Calculators

Class #2 Base

3-Inch Minus

4 - 12-Inch Cobbles

Rip Rap

Drain Rock

Overburden

Pit Run
Project Bids
and/or estimates are available. Email rock@964-rock.com or call (707) 964-7625 M-F PST.

Rock Quarry
33051 N Highway 1
Fort Bragg, CA 95437
(At the 73.47 Mile Marker)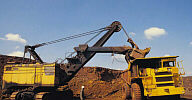 Aggregate: A group of soil particles cohering in such a way that they behave mechanically as a unit.

High Quality Rock
FORT BRAGG, CALIF — 964-ROCK
provides a full range of construction coarse and fine aggregates from a centralized mining operation. If you prefer, our trucks can be rapidly, accurately, and automatically loaded over our scale — to be dispatched to your project site. Or if you prefer to use your own trucks, we can arrange for your driver to be loaded and deployed just as quickly.

Serving Mendocino, Fort Bragg, Caspar, Westport and beyond — developing and delivering quality aggregate products for roads, bridges, highways, country lanes, driveways, landfill, housepads, waterways, driveways, erosion control, drainage, and landscaping.

For delivery, job recommendations, or general aggregate questions, please call 964-ROCK (area code 707).